Maria Lemac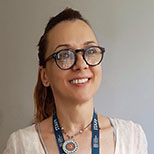 Lecturer
Engineering / Computer Science and Informatics
Maria Lemac joined LSBU in September 2013 as a lecturer. She is also working as a part-time lecturer at the Ealing, Hammersmith & West London College teaching a foundation degree course in IT and an MBA course in Hospitality Management. She has been working in partnership with LSBU teaching staff on delivery of the FdSc course for the last three years. Maria is actively involved in curriculum development and design of Web Design commercial courses offered by the College. She has also undertaken the role of internal verifier.
Maria has taught a wide range of subjects. These have included the following:
- Socio-technical Analysis of Requirements
- System Design Techniques
- Computer Technology
- Web Design and Development
- Computing Platform Technologies
- iCulture
- Dynamic Business Systems
- Business Database Systems
- Multimedia Fundamentals
- Software Development for Business
Maria is currently undertaking a research project in Data Visualisation for her PhD.
Maria has presented a research paper on the importance of critical thinking in higher education at the British Computer Society INSPIRE Conference 2013.
Top of page