Dr Kevin Milburn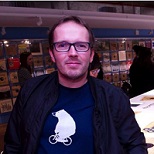 Senior Lecturer in Human Geography; Postgraduate Research Lead, School of Law and Social Sciences
Law and Social Sciences / Urban, Environment and Leisure Studies
Dr Kevin Milburn is a Senior Lecturer in Human Geography and the Postgraduate Research Lead for the School of Law and Social Sciences. He teaches on the Tourism and Hospitality, Events and Entertainment, and Human Geography degree programmes.
Prior to joining LSBU in 2017, Kevin taught at the University of Nottingham (2012-2013), the University of Hull (2013-2015) and King's College London (2015-2017), where he was Departmental Senior Tutor. He has been module leader for a wide variety of undergraduate and postgraduate courses, delivered in Geography and in Culture, Media and Creative Industries departments.
Kevin gained his PhD, 'Songs of the City: Geographies of Metropolitanism and Mobility in the Music of Frank Sinatra and The Blue Nile', from the Department of Geography at the University of Nottingham. He has an MLitt in Media Culture from Strathclyde University, an MA in Japanese Cultural Studies from Birkbeck, University of London and a BA (Hons) in Geography from the University of Manchester.
Kevin's teaching and research examines relationships between landscape, identity and artistic practice and interrogates how such connections are performed and represented. His work explores how notions including place, memory and belonging are shaped by – and in turn help to shape – creative activity. Much of his work is centred around the realms of music, film and painting, with a geographical focus on Britain, Canada, the USA and Japan.
From 1998 until 2008, Kevin was Director of the Mercury Music Prize, the prize for GB and Ireland Album of the Year; in total, he worked for the Mercury prize for 18 years. Before joining the prize, Kevin worked for London Music Week at the Business Design Centre in Islington. He was a long-time member of the BRITS Voting Academy and a Fellow of the Royal Society of Arts. Kevin is an Advisory Board Member for the AHRC supported Live Music Exchange and is a graduate of the BFI and ICO's highly regarded Cultural Cinema Exhibition course.
Kevin's main areas of teaching include: human geography, mobilities, cities and spatial representations, tourism, mega events and cultural geography.
He contributes to the following Undergraduate courses' modules: BA (Hons) Human Geography, BA (Hons) Urban and Environmental Planning, BA (Hons) Tourism and Hospitality and BA (Hons) Events and Entertainment.
Level 4 (Year 1)
Human Geographies of London
Leisure and Consumption
Society Space and Place
Making Sustainable Places
Exploring Human Geographies
Geographies of Tourism
Year 5 (Year 2)
Social and Cultural Geographies
Transport and Mobilities
Geographies of Regeneration
Level 6 (Year 3)
Cities and Representation
Urban Tourism
Dissertation
Tourism and Economic Development
Geopolitics
Kevin is a cultural and historical geographer with a particular interest in music geography. His PhD thesis, 'Songs of the City: Geographies of Metropolitanism and Mobility in the Music of Frank Sinatra and The Blue Nile' examined how Frank Sinatra and The Blue Nile spoke to debates on urbanism, creativity and representation. It also interrogated how musical performance and artefacts address modes of identity at a variety of scales: the local, the national and the trans-national. In addition, the PhD investigated the role these artists played in constructing and circulating a particular urban, male authored ethos in 1950s New York and 1980s Glasgow, and examined cultural links between these two cities. A lengthy article relating to aspects of this work, 'Rethinking music geography through the mainstream: a geographical analysis of Frank Sinatra, music and travel', was published in the journal Social & Cultural Geography in 2017.
Kevin's writing focuses on cultures of creative practice and how they inform notions of place, landscape and belonging in a variety of settings. His specialism in music geography led him to devise and lead a well-received field trip at the 2015 International Conference of Historical Geographers: 'A musical tour of Soho, London's historic entertainment district'. More recently, he has developed a keen interest in geographical concerns surrounding early twentieth century Canadian painting and has delivered conference papers on topics relating to this in London, Montreal and Grenoble.
In addition to his teaching roles, Kevin has been a Research Fellow at the Department of Geography, University of Exeter, where he supported Dr Nicola Thomas on two AHRC public engagement projects: 'Digital Biography: designing architecture to explore lives' and 'Crafting Public Engagement: 80 years of the Gloucestershire Guild of Craftsmen', and a Research Assistant at the Royal Geographical Society with the Institute of British Geographers.
Top of page