Jon Gullidge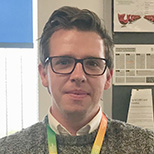 Lecturer
Health and Social Care / Institute of Vocational Learning
Jon is a Lecturer within the Institute of Vocational Learning. He joined the team in 2017. He is a Registered Nurse (Mental Health) and a Specialist Community Public Health Nurse. Jon also is a registered supplementary prescriber. He completed a BSc (Hons) in Psychology, a PGDip in Nursing (Mental Health) and PGDip in Advanced Practice. Jon is currently completing his dissertation to complete his MSc Advanced Practice at King's College London.
Prior to entering academia, Jon was a specialist public health nurse working with first-time teenage parents as part of the Nurse Family Partnership. Prior to this Jon worked in roles as a public health nurse, leading on infant mental health. Before this, Jon worked as a Mental Health Nurse in an acute assessment ward. Before starting nursing, Jon worked in Cyprus as a Nursing assistant in pre and post-operative care.
Jon is extremely enthusiastic about Public Health and looking at ways that Public Health messages and Health Promotion can be incorporated in to day-to-day practice of healthcare and medical staff at all levels. Jon also has a keen interest in the LGBTQ+ demographic and plans to undertake research to link this with other areas of interest.
FDSc Health: Public Health (Module Lead)
Core skills for practice (Lecturer)
CPD workshops
Level 2 Healthcare Support Worker Apprenticeship (Course Lead)
Nursing and Midwifery Council
Royal College of Nursing
Institute of Health Visiting (iHV)
Top of page