James Whittingham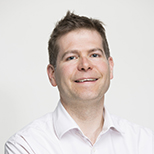 Estates and Academic Environment
James has held the full-time role of Sustainability Manager at LSBU since January 2016. He coordinates a small team which addresses the sustainable development challenges and opportunities at LSBU.
James focuses on the creation and deployment of sustainability policy and strategy, to work with and support stakeholders across the University (e.g. via the Sustainability Steering Group chaired by Prof. Patrick Bailey) improving the sustainability performance and recognition of this topic across the three key sustainable development pillars at LSBU: campus, curriculum and community.
James continually promotes the sustainability agenda across all activities, academic departments and professional service functions to engage staff and students, making LSBU a more sustainable place to work, study and operate from. James works closely with both Ernst Weisbrod and Chris Barnes, based in the Estates and Academic Environment Department, to focus on practical changes to our environment impacts on campus.
James is an experienced strategic sustainability professional, having moved from TUI GROUP, the world's largest travel and tourism organisation, after more than 12 years to join LSBU. His experience gathered there included being the key point of contact on carbon reduction strategy, and working to reduce multiple environmental impact themes. He regularly presented and engaged board-level audiences and is an experienced public speaker.
James spent a lot of time influencing and creating change within the FTSE-100 corporate environment and, whilst his role was based in the UK, he had an international network of colleagues whom he supported to drive progress on embedding sustainability within the TUI GROUP worldwide.
Top of page