James Barnham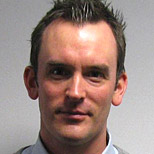 Senior Lecturer in Design and Practice
Engineering / Mechanical Engineering and Design
James is an alumnus of LSBU having graduated with a First in Industrial Design in 2004.
Having started two businesses based around his designs and designing skills, he has experience in concept generation through to funding and commercialisation. He has won five Innovation awards and one Business award for his Nova-Flo product and business and secured ten granted patents.
James has been involved with curriculum modernisation of the Engineering courses through championing Design, Creativity, Innovation and Entrepreneurship.
James works as part of the Nat Puri Institute team within LSBU which is working to:
Forge new links between engineering businesses and academics
Provide postgraduates and professionals with training in management and commerce to complement their engineering-knowhow
Ensure our undergraduates emerge from their studies with the real-world entrepreneurial, employability and enterprise skills needed to succeed in the workplace
He is an Enterprise Champion for LSBU.
James is currently developing a new Masters programme in Engineering and Enterprise as part of the Nat Puri Institute at LSBU.
At LSBU James was instrumental in developing and teaching the Design Projects component of the Design and Practice common module for all first year undergraduate engineering students and has worked for two years as the module coordinator.
Prior to this he taught as a part time lecturer to the Special Effects students and taught the Design students safe workshop practice and model making.
He has mentored various students at different stages of their education.
James has secured the following granted patents:
GB2458783, GB2476541, GB2476707, GB2476353, GB2476542, GB2476351, GB2476539, GB2458783, GB2476540 and GB2428800.
Whilst studying on a Masters in Enterprise course at LSBU James founded About Time Design Ltd to commercialise one of his designs, Nova-Flo (a device which prevents accidental bath floods) and pitched on BBC2 Dragons' Den. Securing finance enabled full UK production with a UK launch in 2008 and the USA version, Flowban, in 2009 through a joint venture.
Nova-Flo has won numerous awards, is protected by ten granted patents and is installed in many residences and a number of high end hotels such as the Dorchester and the Ritz.
James has held a number of job positions ranging from managing professional cycle stores to freelance engineer at BBC Visual Effects department. He has also worked on the production of configurator cases for McLaren Automotive and provided detailed CAD work for a professional photographic accessories company.
As an entrepreneur he created innovative job positions within companies such as Technical Author for a furniture company - redesigning poorly illustrated instruction manuals (thereby saving money on damaged returned products), and for another bespoke furniture company provided photo-realistic illustrations of designs prior to production to win more business.
James is a very keen cyclist. Particularly interested in mountain biking trail riding and recumbent cycles.
He has renovated properties including re-wiring and re-plumbing, kitchen and bathroom fitting and joinery.
Top of page