Ian Mehrtens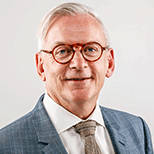 Ian Mehrtens is the Chief Operating Officer and member of the University's Executive group. He is responsible for leading a range of activities focussed on the delivery of quality responsive services enabling London South Bank University (LSBU) to function effectively.
His leadership includes the Departments of Academic Related Resources (including ICT and Library & Learning Resources and the Academy of Sport) and Estates & Academic Environment (including Student Accommodation, Catering, Central Timetabling and Sustainability).
Ian joined LSBU after a long academic career in a number of universities both as an academic and senior manager. He was previously Vice Principal Operations at the Royal Veterinary College, University of London.
Immediately prior to joining LSBU, Ian followed a successful portfolio career in interim management and consultancy working for a number of universities across the sector.
Ian is the LSBU Executive sponsor for two cross-University functions. The first is Diversity and Inclusion and plays an active role in the promotion of LGBT rights at the University. LSBU is an active participant in the Stonewall Champion programme and Ian is a member of the Stonewall Senior Executives group. The second is for Customer Service and as a member of the Institute of Customer Service (ICS), Ian leads the project to achieve University accreditation by the ICS.
As a member of the Executive, Ian is responsible for leading the University's approach to sustainability. The team responsible for the delivery of the sustainability agenda are within the Estates and Academic Environment directorate and Ian plays an active role in the promotion of sustainability issues across the University campuses.
Ian Mehrtens holds an MBA and research degree and is a Fellow of the Royal Institution of Chartered Surveyors.
Ian is an Honorary Senior Fellow of Regent's University London.
Ian Mehrtens represents London South Bank University (LSBU) on the Elephant & Castle Strategic Stakeholder Group and was a former member of the Higher Education Design Quality Forum, a group concerned about improving the quality of design in UK Universities.
In addition, he holds a number of non-executive director roles in the sector and is also trustee of a number of smaller charities and community boards.
Top of page