Gurpreet Jagpal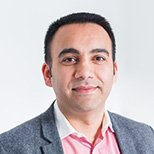 Director of Enterprise, CEO South Bank University Enterprises Ltd
Gurpreet is Director of Research, Enterprise and Innovation at London South Bank University (LSBU) and a CEO of South Bank University Enterprises Ltd (SBUEL), where he brings together research and enterprise functions to maximise synergies with a greater focus on applied research. Gurpreet also ensures that clear processes are in place for monitoring performance across the whole University for research and enterprise activity.
Further responsibilities include line managing the current University Research and Enterprise teams to deliver operational plans and ensuring momentum is sustained through the change period. Gurpreet also oversees REI activities that provide opportunities for London SMEs to engage with REI teams and LSBU academia, ensuring a continuous relationship between business communities and the University.
Gurpreet has built an extensive career which spans directing multiple institutional/project design and development, delivering key end-to-end solutions in line with stakeholder and University senior management requirements. An inspirational, transformational and visionary Director, he has proven ability to transform business performance: managing and implementing change, delivering operational efficiencies and providing measurable results.
Hands-on, with focus on strategy and operations, Gurpreet is logical and has a practical approach to problem solving. His qualifications include: MBA; MBTI Certified Practitioner; ILM Certificate in People Management; PRINCE2 Practitioner.
Gurpreet is the senior manager sponsor for LSBU's Community Working Group, as part of the University's approach to sustainability. He plays an active role in the promotion of sustainability issues across LSBU – for example, Gurpreet has responsibility for the Sustainable Communities Institute, which has a remit to connect academia with industry to develop new, innovative solutions for a more sustainable twenty-first century.
Top of page