Fiona Mellor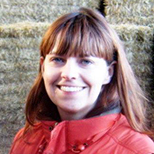 Post-Doctoral Research Fellow
Applied Sciences / Human Sciences
Fiona is an experienced researcher and diagnostic radiographer. Her PhD was funded by the National Institute for Health Research Clinical Academic Training Fellowship Scheme and investigated the use of an improved way of assessing spinal motion in-vivo using quantitative fluoroscopy. Her research interests have now expanded into osteoporotic vertebral fracture and sarcopenia, building upon her previous work in chronic low back pain. She also maintains an active interest in medical imaging including MRI and ultrasound.
Fiona is an active member of many groups including the Society and College of Radiographers, The Radiological Research Trust, The Council for Allied Health Professions Research and the Society for Back Pain Research.
Fiona's teaching interests and experience are in the field of research methods in a clinical environment, with a focus on translational research and increasing research capacity amongst clinically active professionals. She has given guest lectures at universities and conferences both in the UK and abroad
Fiona has widely disseminated the results of her PhD and taught musculoskeletal professionals the evidence behind inter-vertebral motion measurements in the spine, and their implications for treatment. Clinically, Fiona is responsible for supervising student radiographers in their 3rd year when they undertake out of hours training prior to graduation.
Fiona has supervised a number of BSc and MSc projects (including NIHR MSc sponsored projects). She has collaborated widely with other researchers and institutes in the area of the spine, clinical imaging and back pain.

Fiona was awarded a National Institute of Health Research Fellowship for her PhD, and has since been successful in gaining post-doctoral research funding from the Radiological Research Trust to investigate spinal motion and disc degeneration in collaboration with the Bournemouth Open Upright MRI centre and the Anglo-European College of Chiropractic. Her research theme is now progressing into osteoporosis in the spine and sarcopenia, with a focus on biomechanics and geometry. Fiona is also supervising a PhD which is investigating the use of ultrasound to objectively measure muscle tension.
A full list of Fiona's publications can be found at her profile on ResearchGate.
Health and Care Profession Council, registered radiographer RA37710
Society and College of Radiographers, Research Group Vice Chair
Council for Allied Health Professions Research, facilitator of the Southampton hub
Radiological Research Trust, trustee
Society for Back Pain Research, member (ex-executive member)
Anglo-European College of Chiropractic, associate research fellow
Poole Hospital NHS Trust, diagnostic radiographer
Journal reviewer for the European Spine Journal and Radiography
Fiona's hobbies and interests include horse riding, skiing, scuba diving, playing the guitar and crochet.
Top of page