Dr Weiou Wu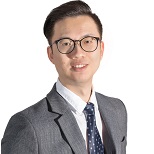 Lecturer, Finance
Business / Accounting, Finance and Economics
Weiou Wu is a lecturer in the Accounting, Finance and Economics Division. He teaches several modules to postgraduate students, such as Derivatives and Risk Management, Research Methods, and International Financial Markets. He also undertakes PhD supervisions in the area of Quantitative Finance and Financial Econometrics.
Weiou obtained his Masters in Financial Mathematics from University of Warwick, and he also holds a PhD from University of St Andrews. Prior to joining LSBU, he held several research and teaching positions in University of Limerick and National University of Ireland, Maynooth.
Weiou is the module leader for International Financial Markets, and Derivatives and Risk Management. He also teaches tutorials for Fundamentals of Finance, Managerial Finance and Research Methods.
Weiou has published several papers in ABS rated journals and his current research interests are in the areas of financial markets and econometrics.
Top of page