Dr Vincent Icheku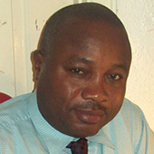 Senior Lecturer
Health and Social Care / Adult Nursing and Midwifery
Dr Vincent Icheku is a Senior Lecturer in the department of Adult Nursing and Midwifery. His academic areas of teaching expertise and research interests include research methods, public health, social policies and their impact on health and social wellbeing, legal and ethical issues in health and social care practice and human rights of vulnerable people.
Dr Icheku spent two years as a lecturer in health and social care at Rainham Sixth Form and Technology College. He also spent two years as a divisional leader in the school of professional care, North West Kent College before joining London South Bank University in 2002.
Dr. Icheku holds the following qualifications:
Graduate diploma in social sciences from Brunel University
Graduate diploma in law from London South Bank University
BSc (Hons) Health Studies from the University of West London
Postgraduate Certificate of Education (PGCE) from Greenwich University
Post graduate diploma in legal studies (LPC) from London Metropolitan University
Master of Philosophy (M.Phil.) from Brunel University
Doctorate degree (Ph.D) in Sociology from the University of Surrey
Dr Icheku's current areas of teaching are:
Ethics and law, inter-professional working, research methods, public health and social policies at degree levels
Offering supervision to both MSc and BSc students doing research dissertations
Dr. Icheku's research interests include HIV and Ebola infection among Sub-Saharan Africans at home and in the United Kingdom. His current research focus is on cultural context of Ebola outbreak in West Africa.
Most recent publications
Icheku, V and Onianwah, IF and Nwulia, A A descriptive cross-sectional study on various uses and outcomes of Garcinia Kola among people of Oshimili North in the Delta State of Nigeria. AYU, 39. 132-138. DOI 10.4103/ayu.AYU_195_16
Icheku, V and Graham, R Integration of Evidence from a Systematic Review into Practice involving the care of adolescent males exposed to domestic violence. SG Williams Publishing UK Co Limited, London. ISBN 978-09553510-2-0
Icheku, V Service Users' Involvement in Interprofessional Learning and Higher Overall Pass Rate.. In: 2nd Global Nursing and Healthcare Conference, 13th - 15th August 2018, London UK.
Icheku, V and Paris, C Evidence based interventions to improve fostering relationships. LAP Lambert Academic Publishing, ISBN 978-613-9-81986-7
Icheku, V and Onianwah, IF and Nwulia, A Comparative cross-sectional quantitative study of health status among consumers of bitter kola in Igbuzor community living in Oshilmili North Local Government area of Delta state.. Universal Journal of Food and Nutrition Science, 6. 28-40. DOI 10.13189/fst.2018.060104
Icheku, V Zika Virus and Microcephaly. In: Smart Technology to Fight Zika virus Epidemic, 10 September 2017 - 13 September 2017, Recife, Brazil.
Icheku, V Is Zika virus the definitive culprit in cases of Microcephaly?. Lambert Academic Publishing, Germany. ISBN 978-3-330-34367-2
Icheku, V A new report that may provide clue as to why for 70 years there was no documented cases of birth defect in Africa where Zika virus originated. In: 3rd International Conference on Influenza and Zoonotic Diseases, 21 August 2017 - 22 August 2017, Birmingham, UK.
Icheku, V and Paris, C What interventions work to improve relationships between birth parents and children in foster care?. International Journal of Current Research, 9.
Icheku, V and Graham, R What Social Impact Does Exposure to Domestic Violence Have on Adolescent Males? A Systemic Review of Literature. Journal of Healthcare Communications, 2. DOI 10.4172/2472-1654.100045
More publications at LSBU Research Open
Dr. Icheku is a Senior Fellow of UK Higher Education Academy and also a member of the LSBU School of Health and Social Care Research Ethics Committee.
Top of page