Dr Suela Kellici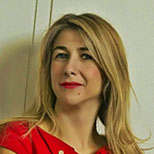 Senior Lecturer
Engineering / Chemical and Petroleum Engineering
Dr Kellici is an expert in innovative supercritical fluid technologies and materials. She is a materials chemist with a focus on designing and discovering advanced functional nanomaterials using a target-oriented approach and technologies that provide effective solutions for energy, biomedical and environmental applications.
Dr Kellici has a degree in Chemistry and PhD in Materials Science, both from Queen Mary University of London. After, she worked on very successful EPSRC sponsored project at University College London (UCL). During this time, in collaboration with other group members she made several significant scientific contributions in the area of combinatorial synthesis of nanomaterials. In particular, the development of RAMSI, a unique combinatorial robot utilised for production of nanoceramics libraries is a groundbreaking development of the continuous hydrothermal flow synthesis technology with potential commercial applications from sunscreens, photocatalysts materials, phosphors to fuel cell components. Subsequently, she joined LSBU where she has enjoyed working in different projects. She is part of the Advanced Materials Research Centre.
Chemistry (Biomolecules) - Biosciences - year 1 UG lecture course
Statistics (Research Methods) - Forensic Science, Food and Biosciences, Human Nutrition - year 2 UG lecture course
Materials Science - Forensic Science - year 1 UG lecture course
Analytical Techniques Practical for Forensic Science - year 2 UG laboratory course
Analytical Techniques Practical for Food and Bioscience – year 2 UG laboratory course
Nanotechnology and its Applications in Food Science - Food and Safety - MSc lecture course
Her current research looks at ways to make new advanced functional nanomaterials in a more unique and exotic manner by using supercritical fluids with unusual properties for applications inbiological imaging, antibacterial coatings and catalyst for energy related applications. This takes an integrated approach covering synthesis through to characterization and composition to end applications.
Her research covers the following areas:
Nanomaterials
Graphene based nanocomposites
Biological Applications of Nanomaterials
Continuous Hydrothermal Flow Synthesis
Supercritical Fluids
Green Chemistry and Clean Technologies
High Throughput Nanomaterials Discovery
Member of Royal Society of Chemistry - MRSC
Science Technology and Engineering and Mathematics (STEM) Ambassador
Member of UK Semiconductor Photochemistry Network
International Society for the Advancement of Supercritical Fluids (ISASF)
Member of Analytical Science Network (ASN) which is the younger members branch of the Analytical Division of the Royal Society of Chemistry
Top of page