Dr Sophie Elsmore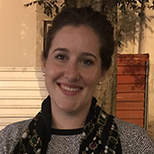 Lecturer in Housing and Human Geography; Course Director: MA Housing and Society
Law and Social Sciences / Urban, Environment and Leisure Studies
Dr Sophie Elsmore joined as a Lecturer in Housing and Human Geography in July 2017 and is the Course Director for the MA Housing and Society.
Prior to joining, Sophie was a Lecturer in Human Geography at St Mary's University Twickenham (2016-17), a Teaching Fellow in Urban Geography at the Department of Geography at University College London (2015-2016), and held various teaching positions at the Department of Geography King's College London (2011-2015), where she was nominated for the King's College London Teaching Excellence Prize.
Sophie completed a PhD in 2015 in the Department of Geography, King's College London, funded by the Economic and Social Research Council. In 2013, she was a Visiting Research Fellow at the Centre for European Studies, Sciences-Po Paris, funded by an ESRC Overseas Institutional Visit Award. She earned a first class BA (Hons) Geography from King's College London in 2009, and went on to complete her MSc Cities in the same department in 2010 funded by the ESRC.
Sophie's research focuses on planning and the built environment, urban governance, legal geographies, and housing and property development. She is a member of the Space and Place Research Group at LSBU.
Level 4:
Housing in Context
Level 5:
Housing Development
Researching Housing Policy
Level 6:
Housing and Home
BA Dissertation
Level 7:
Neighbourhood Management and Renewal
BA and MA Dissertation
Sophie's research broadly focuses on the interrelationships between urban governance and the built environment. Within this, her research interests cut across three themes: (i) planning and the built environment; (ii) urban governance and legal geographies; and (iii) housing and property development. In turn, it addresses the complex interrelationships between government (national and local), the private sector and communities in the governance, planning and management of contemporary cities.
Her doctoral thesis, 'From the public interest to the marketization of planning: Section 106 agreements and the governance of spatial development', examined the changing role of section 106 agreements as part of the planning process, and what these practices reveal about the changing interrelationships between local planning practice and private property development interests. By critically interrogating practices of city building and the politics of spatial development in London, the thesis makes three important contributions: (i) it evidences the progressive marketization of planning practices; (ii) draws attention to the growing use and implications of contractual governance arrangements in shaping the politics of spatial development; and (iii) addresses the paucity of understanding about the role of private sector property developers, arguing for the necessity to conceptualize them as political actors.
Building on her previous research on networks of private property developers, Sophie's current research focuses on the house building industry in Britain, questioning what makes a good house builder. Concentrating on the 'big six' house builders in Britain, this research seeks to understand how they are shaping and controlling the provision and delivery of both market and affordable housing. By examining how they engage and interact with the state and governmental regulation, it explores how house builders structure and organize the provision of housing.
Alongside this, she is working on a project to develop understandings of expert knowledge within socio-environmental decision and policy-making.
Top of page