Dr Maria Chatzichristodoulou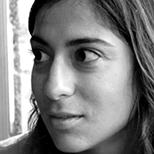 Director of External Development and Enterprise, Head of Creative Industries
Arts and Creative Industries / Arts and Performance
Maria Chatzichristodoulou (aka Maria X) joined London South Bank University (LSBU) in 2015 as Associate Professor in Performance and New Media, and Head of External Development and Enterprise for the School of Arts and Creative Industries. Previously she was a Lecturer in Theatre and Performance at the University of Hull (2009-2015), where she also acted as Director of Postgraduate Studies for the School of Arts and New Media (2010 -2013), before moving to the School of Drama, Music and Screen (2014-15). Maria has also taught theatre, performance and new media at the University of London Colleges Goldsmiths, Birkbeck and Queen Mary, Richmond (the International American University in the UK), and the FE College WEA (2004-2009). She holds a PhD in Art and Computational Technologies from Goldsmiths, University of London (2010).
Maria is a cultural practitioner who has worked as curator, producer, performer, writer and community organiser in the UK, Greece and internationally (France, Spain, Italy, Bulgaria, Peru). She was co-founder and co-director of the international Art and Technology Festival Medi@terra and co-artistic director of Fournos Centre for Digital Culture, both in Athens, Greece (1996-2002). Medi@terra was co-organised with the Hellenic Ministries of Culture and Development and was part of the Cultural Olympiad. In the UK, Maria worked as Community Participation Officer at The Albany in London (2003–5), and co-convener of The Thursday Club at Goldsmiths, University of London (2006-2009). Maria has published and presented her research widely, convened numerous conferences and symposia, and curated festivals and exhibitions.
Maria is based within the School of Arts and Creative Industries at B343, 103 Borough Road, London, SE1 0AA.
Maria delivers on practical and theoretical modules in Drama and Performance. At undergraduate level she teaches on the modules: Performance Laboratory II (Year 2), Multimedia Performance (Year 2), Practices of Adaptation (Year 2), Research Project (Year 3) and Independent Practice as Research Project (Year 3).
In the past Maria has taught modules on Applied and Interactive Theatre, Curating and Managing Live Arts, Contemporary Performance Practice, Performance Analysis and Criticism, Theatre and Feminism, and Intercultural Theatres, among others. She has also delivered MA level modules on: Research Methods (with a focus on Practice as Research Methodologies), and developing a Portfolio of Professional Practice.
Maria welcomes PhD students who are interested to undertake research in her areas of expertise. She is currently main supervisor /director of studies to 4 PhD students who undertake research in the areas of networked performance, public arts and social impact, memory and intermediality in relation to autobiographical performance, and curating live arts.
Maria researches the intersections between theatre, performance, live art, and digital technologies, studying the transformation of performance once it becomes imbued with mediatisation. Currently, her main research focus is on the impact of socio-technical networks upon contemporary performance practices.
Further areas of investigation include:
socially engaged practices in the areas of live art, applied theatre, media art and activism, considering how those engage audiences/participants and examining aspirations of facilitating positive social change
intimate (one-to-one and micro-audience) performances, particularly in relation to technology's capacity of facilitating intimate and visceral encounters
the curation of live and unstable media (live art, media arts), as well as policy and funding issues related to those
Most recent publications
Chatzichristodoulou, M Citizen Media and Performance Studies. In: Routledge Encyclopedia of Citizen Media. Routledge, Abingdon-on-Thames,
Chatzichristodoulou, M Encountering the Digital in Performance:Deployment | Engagement | Trace. Introduction. Contemporary Theatre Review, 27. DOI 10.1080/10486801.2017.1343248
Chatzichristodoulou, M Karen by Blast Theory: Leaking Privacy. In: Digital Bodies: Creativity and Technology in the Arts and Humanities. Palgrave Macmillan, ISBN 978-1-349-95240-3 DOI 10.1057/978-1-349-95241-0
Chatzichristodoulou, M and Crossley, M 'Falling Between': Opportunities and Challenges for Intermediality [Editorial Introduction]. Research in Drama Education: The Journal of Applied Theatre and Performance, 21. 277-292. DOI 10.1080/13569783.2016.1194748
Chatzichristodoulou, M Blast Theory. In: British Theatre Companies: 1995-2014. Bloomsbury Methuen Drama, London, pp. 231 - 254. ISBN 9781408177280
More publications at LSBU Research Open
Fellow, Higher Education Academy
Working Group Co-convener, Performance and New Technologies Working Group, Theatre and Performance Research Association (TaPRA)
Member of Board, Digital Research in the Humanities and Arts conference (DRHA)
Member of Board, Live Interfaces conference
Member of Board, Body, Space & Technology online journal (Brunel University of West London)
Trustee, MetaPlay Participative Theatre, Arts and Media
Book Reviews Editor, International Journal of Performance Arts and Digital Media (Routledge)
Affiliate, Live Art Development Agency
Maria collaborates with and contributes as a peer reviewer to numerous conferences and organisations such as: SIGGRAPH, Computational Aesthetics in Graphics, Visualization and Imaging, ACM International Conference on Digital Interactive Media in Entertainment and Arts, Computational Models of Creativity in the Arts, and Machinista. She has acted as independent reporter for Arts Council London (2006-8). Maria has on-going collaborations with a range of cultural organisations such as, Watermans, Furtherfield, Live Art Development Agency, and Victoria and Albert Museum.
Top of page