Dr Lindsey Nicholls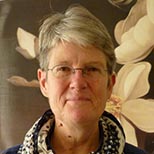 Senior Lecturer
Health and Social Care / Institute of Vocational Learning
Dr Lindsey Nicholls has worked as a clinical occupational therapist (OT), organisational consultant and academic in Cape Town, South Africa and London, UK. Her undergraduate degree in OT was from the University of Cape Town and her MA from the University of East London/Tavistock-Portman Clinic in psychoanalytic work with organisations.
Her PhD research involved a psychoanalytically informed ethnographic study of the social defence mechanisms used by occupational therapists in their professional work. She has written articles and chapters, and co-authored a book on psychoanalytic thinking in occupational therapy. Her current academic interests are in the use of dreams to extend clinical reasoning/reflexivity, and in the symbolic understanding of occupations in clinical work and social life.
Dr Nicholls has supervised PhD projects on the South African TRC and an inclusive social enterprise project. She is currently supervising PhD work on trauma and psychosis and the occupational experiences of being transgender.
Dr Nicholls is a committed educationalist and values the use of dialogue and debate through the use of seminars and e-learning forums, which can engage students in examining their underlying assumptions about health, illness and the 'other'. This approach to learning can encourage students to consider the deeper (or hidden) social issues which may affect the engagement of individuals or groups in different communities. It is through this work of reflecting on hidden assumptions and desires that students and novice clinical therapists are able to connect with their authentic compassion. This emotional recognition of the necessary dependency in any relationship can move beyond a (superficial) moral need to 'do good for the other' to a deeper ethical commitment to social justice.
Dr Nicholls teaches in the Institute of Vocational Learning. Her undergraduate modules include 'Managing Risk' and 'Interprofessional Learning'. She contributes to the wide range of team run workshops for clinical departments and is the project manager for the team.
Dr Nicholls has previously used media (film, YouTube, blogging) in collaborative learning projects and has an interest in how 'movies' can evoke 'the moral imagination'. She enjoys engaging students in group discussions and debates. She has publications in education and was part of a five year South African research project on interprofessional learning called 'Communiity, Self and Identity'. Many journal publications and a book have arisen from this work.
Dr Nicholls is currently part of a National Research Foundation (NRF) funded project: 'Posthumanism, the Affective Turn and Socially Just Critical Higher Education Pedagogies (2013- 2016)' with Professor Viv Bozalek (University of Western Cape, South Africa). This project, which is in its final stage, uses digital media (e.g. Google Docs and webinars). It links researchers, philosophers and students across multiple countries to explore and learn about the de-centring of the 'human' subject (i.e. posthumanism) in educational discourses through an appreciation of environmental wisdom and the advances of digital resources (e.g. the use of social media in education).
Registered with Health Professions Council UK (HCPC) No OT16018
Member of British Association of Occupational Therapists (BAOT) No BT0219561
Dr Nicholls is an Associate Tutor for Tavistock Clinic/University East London, D10 'Psychoanalytic Approaches to Working with Organisations'. This is a two year part-time postgraduate Masters level course and her role includes giving lectures, running observation seminars, marking essays and dissertations and being a personal academic tutor for selected students.She is also a Sessional Lecturer for MA Research Proposal and MA courses at Westminster Pastoral Foundation (WPF)/University of Roehampton.
Top of page