Dr Hillary Katz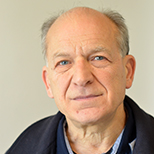 Senior Lecturer
Applied Sciences / Psychology
Dr Hillary Katz is a Senior Lecturer in the Department of Psychology. His interests are grounded in the biological basis of behaviour, including genetics and evolutionary theory, but especially focusing on visual perception.
He obtained a PhD in Psychology from the University of California, Berkeley before working as a Research Fellow in the Department of Child Health at Manchester University, where he studied the effects of early-life nutrition and environment on the developing brain and behaviour. Subsequently, in order to develop further his understanding of psychology from a non-scientific point of view, he studied art, obtaining a BFA from Camberwell School of Arts and Crafts. This led to research and teaching on the connection between psychological processes, the brain and art. He is currently running a research project funded by the Technology Strategy Board on factors influencing errors in the labelling of food products during packaging.
This connects to questions of awareness and especially how an understanding of psychology is reflected in and indeed furthered by art.
BSc Psychology
Art, Awareness and the Brain
Introducing Psychological Approaches
Introducing Real World Psychology
Psychological Research Methods 1
Psychology of Behaviour with Others
Psychology of Learning and Memory
MSc Psychology
Perception, Attention, and Memory
Social Behaviour
Thinking, Intelligence, and Communication
Most recent publications
Smith-Spark, JH and Katz, HB and Wilcockson, TDW and Marchant, A Optimal approaches to the quality control checking of product labels. International Journal of Industrial Ergonomics,
Smith-Spark, JH and Katz, HB and Marchant, A and Wilcockson, TDW Reducing quality control errors by guiding behavior. In: 6th International Ergonomics Conference Ergonomics 2016 – Focus on synergy, 15 Jun 2016 - 18 Jun 2016, Zadar, Croatia.
Katz, HB and Smith-Spark, JH and Wilcockson, TDW and Marchant, A Cognitive predictors of accuracy in quality control checking. In: EAPCogSci 2015 EuroAsianPacific Joint Conference on Cognitive Science, September 25-27, 2015, Torino, Italy.
Smith-Spark, JH and Katz, HB and Marchant, A and Wilcockson, TDW Label-checking strategies to adapt behaviour to design. In: ECCE 2015 – European Conference on Cognitive Ergonomics, July 1-3, 2015, Warsaw, Poland.
More publications at LSBU Research Open
Top of page