Dr Elena Marchevska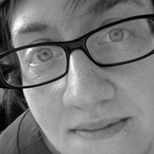 Senior Lecturer in Drama and Performance
Arts and Creative Industries / Arts and Performance
Dr Elena Marchevska is a practitioner, academic and researcher interested in new historical discontinuities that have emerged in post-capitalist and post-socialist transition. She is researching and writing extensively on the issues of belonging, the female body, the border and intergenerational trauma. Her artistic work explores borders and stories that emerge from living in transition. Ultimately, she is interested in creating and researching work that provides the means by which people can meet, human to human, in all their differences, in the most sensitive and sincere way possible.
In 2016, she was a researcher in residence at Live Art Development Agency's Study Room in Hackney Wick, London, exploring Live Art practices and methodologies in relation to the experiences of the displaced. This residency is part of the Collaborative Arts Partnership Programme (CAPP), a pan-European programme focusing on collaborative practices with the aim of engaging new participants and enhancing mobility and exchange for artists.
Dr Marchevska was appointed as a Principle Investigator on a two-year Marie Skłodowska-Curie Fellowship project, HOUSEREG, that looks at art projects focused on housing issues. This research will be conducted in collaboration with the Serbian academic Dr Ana Vilenica.
Dr Marchevska was a key organiser of two international conferences:
The conferences brought together an international group of academics and artists interested in the intersection of the maternal, creativity and activism. As a result of this, Elena co-edited a special issue of the journal Studies in the Maternal with Prof. Valerie Walkerdine, titled Performing everyday maternal practice (November 2016).
Dr Marchevska is a Research Lead for the Division of Arts and Performance, and she sits on the School of Arts and Creative Industries Research Committee.
Elena's main teaching interests are:
20th and 21st century experimental theatre and performance – especially from East Europe
the relationship between performance, maternal and feminist philosophy – especially Irigaray, Kristeva and Ettinger
concepts of collaboration, collective creation and audience participation in performance
radical performance practices-especially political street performance, protest as performance and tactical media
the relationship between performance and the Other - particularly concepts of (im)migrant , foreign and foreignness
Dr Marchevska writes extensively on issues of belonging, the female body, borders and intergenerational trauma. She grew up in former Yugoslavia, a country that underwent an extreme socio-political rupture in the 1990s; she was part of the many waves of emigration over the course of that decade. Due to this, her main research focus is on displacement and she have been involved in many international collaborations over the last ten years that explore issues of exile, war and post-conflict resolution.
A significant strand of Dr Marchevska's research is focused on how the maternal subjectivity, the maternal body, solidarity and encounter are used as concepts in creative work, and how they relate to contemporary issues of mothering. Together with Prof. Valerie Walkerdine , she co-organised and curated a two-day international conference 'Motherhood and Creative practice: Maternal structures in creative work'. As a result they co-edited a special issue for the journal Studies in the Maternal that explores performative strategies used by creative practitioners in order to stage the spheres of maternal invisibility.
Dr Marchevska's performance piece 'Valid until…' (2009-11) was acquired by the Live Art Development Agency and was also included in "Live Art and Motherhood: A Study Room Guide on Live Art and the Maternal", written by the artists, activists and academics Emily Underwood-Lee and Lena Šimić.
Most recent publications
Marchevska, E How to talk about gender equality with a 9 year old: Performing feminist values for children. Performance Research: a journal of the performing arts, 23. 102-108. DOI 10.1080/13528165.2018.1460456
Marchevska, E Crossing of Hostile Borders: Displacement and Borders in the artwork of Tanja Ostojić and Bern O'Donoghue. In: Migrations. Cambridge Scholars Publishing, Cambridge,
Marchevska, E Fluidity and friendship: the choir that surprised the city. Contemporary Theatre Review, 27.
Marchevska, E Performing the Present, Saving the Future: Digital Media Presence in the Work of Raspeani Skopjani. Contemporary Theatre Review, 27. 391-397. DOI https://doi.org/10.1080/10486801.2017.1343240
Marchevska, E The Study Room Guide on The Displaced and Privilege: Live Art in Age of Hostility. technical_report. Live Art Development Agency, London.
Marchevska, E Belonging and absence: resisting the division. In: Performing Exile: Foreign Bodies. Intellect Press, ISBN 9781783208173
Marchevska, E and Walkerdine, V Performing Everyday Maternal Practice: Activist Structures in Creative Work [Editorial]. Studies in the Maternal, 8. 1-4. DOI http://dx.doi.org/10.16995/sim.236
Marchevska, E Performing everyday maternal practice: Activist structures in creative work. Studies in the Maternal, 8. 1-14. DOI 10.16995/sim.235
Marchevska, E Living in a Terminal. In: De fronteres i arts escèniques. Punctum, Lleida, Spain, pp. 307-317. ISBN 978-84-943779-0-7
Marchevska, E Performing Inequality: Feminist performative acts as protest gestures. Journal of Arts and Communities, 8. DOI 10.1386/jaac.8.1-2.107_1
More publications at LSBU Research Open
Dr Marchevska is one of the founding members of the Centre for Digital Storymaking at LSBU, which brings together scholars who have interests and expertise in various processes of making stories in cross-disciplinary frameworks.
Dr Marchevska is an active member of the Theatre and Performance Research Association and the International Federation of Theatre Research.
Since May 2014, Dr Marchevska has been a Senior Fellow of the Higher Education Academy, awarded for her outstanding teaching and continued support of research students.
Dr Marchevska collaborated with Counterpoint arts and Tate Modern on their project Who are we?, a week of drop-in activity, dialogue, artist-led workshops, debate and lively disruption, asking what it means to belong – across and within borders.
Dr Marchevska is also working in close collaboration with Transart Insitute, and she is supervising creative and research project for them.
Dr Marchevska is an External Examiner for Sheffield Hallam University, and served as an External Examiner for the University of Hertfordshire between 2012-16.
Top of page