Dr Daqing Chen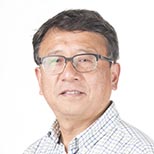 Senior Lecturer
Engineering / Computer Science and Informatics
Dr Daqing Chen's main professional expertise and research interests are in the areas of business intelligence, data mining, intelligent information processing, and SAS system.
Dr Chen joined the University in July 1999. Prior to this, Daqing worked as a Research Fellow in the System, Electronics and Information Laboratory, IRESTE, University of Nantes, Nantes, France (June 1998 - July 1999), a Research Associate in the Department of Computer Science and Engineering, The Chinese University of Hong Kong (December 1997 – June 1998), and as a Post-doctoral Researcher and then an Associate Professor at the National Key Laboratory of Radar Signal Processing, Xidian University, Xian, China (February 1994 – November 1997).
Dr Chen is currently the Pathway Leader for BSc and HND Business Intelligence. He is also the leader of the Public Analytics research group.
Dr Chen's primary teaching areas are business intelligence, data mining, and database systems. He was the first academic to teach data mining and business intelligence at the University. Since 2006 he has taught various MSc and BSc modules on data mining and business intelligence, including Introduction to Business Intelligence, Principles of Data Mining, Data Mining and Business Analytics, and Data Mining and Data Warehousing. He has effectively used his research findings and case studies in the development of curriculum material in his teaching.
In recent years, Dr Chen has conducted several business-oriented data mining projects across a variety of industry sectors, including student retention analysis and prediction (London South Bank University), donor segmentation for not-for-profit organization (The Muscular Dystrophy Campaign, UK), and consumer-centric business intelligence for online retailers (The Rex International, Ltd, UK).
Selected Publications:
Daqing Chen and Geoffrey Elliott, Determining Key (Predictor) Modules for Early Identification of Students At-Risk, to appear in Proceeding of 2013 International Conference on Advanced Information Engineering and Education Science (ICAIEES 2013), Beijing, China, December 19-20, 2013.
Kun Guo, Timothy Hong, Rao Bhamidimarri, and Daqing Chen, HYBRID MODELLING FOR RAINFALL-RECHARGE SYSTEM USING NEURAL NETWORK, Proceedings of the 35th World Congress of the International Association for Hydro-Environment Engineering and Research, Tsinghua University Press, Beijing, China, peer reviewed paper and oral presentation, ISBN: 978-7-89414-588-8, Chengdu, China Sep 8-13, 2013.
Daqing Chen, Sai Liang Sain, and Kun Guo, Data mining for the online retail industry: A case study of RFM model-based customer segmentation using data mining, Journal of Database Marketing and Customer Strategy Management, Vol. 19, No. 3, pp. 197–208, 2012 (Published online before print: 27 August 2012. doi: 10.1057/dbm.2012.17).
Kun Guo, Timothy Hong, Rao Bhamidimarri, and Daqing Chen, The application of multi-layer perceptron trained by adaptive extended kalman filter in predicting the flow of Pupu springs, Proc. of the 10th International Conference on Hydroinformatics (HIC 2012), Eds. Hinkelmann,R., Nasermoaddeli, M.H., Liong, S.Y.,Savic, D., Fröhle,P., Daemrich, K.F., ISBN 978-3-941492-45-5, Hamburg, Germany, July 14-18, 2012.
Most recent publications
Fenghour, S and Chen, D and Xiao, P Contour Mapping for Speaker-Independent Lip Reading System. In: The 11th International Conference on Machine Vision (ICMV 2018), 1 Nov 2018 - 3 November 2018, Munich, Germany.
Chen, D and Sanz, BM and Zhao, E Visual analytics in the public sector: An analysis on diversities and similarities of London's wards. In: International Conference on Big Data Analytics, Data Mining and Computational Intelligence 2018 (BigDaCI 2018), 18 July 2018 - 20 July 2018, Madrid, Spain.
Adegoke, V and Chen, D and Barikzai, S and Banissi, E Predictive Ensemble Modelling: An Experimental Comparison of Boosting Implementation Methods. In: 2017 European Modelling Symposium (EMS), 20 November 2017 - 21 November 2017, Manchester.
Adegoke, V and Chen, D and Banissi, E and Barikzai, S Prediction of Breast Cancer Survivability using Ensemble Algorithms. In: International Conference on Smart System and Technologies 2017 (SST 2017),, 18 October 2017 - 20 October 2017, Osijek, Croatia.
Chen, D Feature Extraction and Labelling Large Data Sets Using Deep Learning. In: RESEARCHER LINK: Smart Technology for Fighting Virus Epidemics & Bioinformatics, 10 September 2017 - 13 September 2017, Recife, Pernambuco, Brazil.
Guo, Zhi-gao and Gao, Xiao-guang and Hao, Ren and Yang, Yu and Di, Ruo-hai and Chen, D Learning Bayesian Network Parameters from a Small Data Set: A Further Constrained Qualitatively Maximum a Posteriori Method. International Journal of Approximate Reasoning, 91. 22-35. DOI 10.1016/j.ijar.2017.08.009
Gao, X and Yu, Y and Zhi-gao, G and Chen, D A Bayesian Approach to Learn Bayesian Networks Using Data and Constraints. In: 23rd International Conference on Pattern Recognition (ICPR 2016), 04 December - 08 December 2016, Cancún, México.
Chen, D On Distributed Deep Network for Processing Large-Scale Sets of Complex Data. In: 8th International Conference on Intelligent Human-Machine Systems and Cybernetics (IHMSC), 27 Aug 2016 - 28 Aug 2016, Hangzhou, China.
Chen, D and Asaolu, B and Qin, C BIG DATA ANALYTICS IN THE PUBLIC SECTOR: A CASE STUDY OF NEET ANALYSIS FOR THE LONDON BOROUGHS. In: International Conference on Big Data Analytics, Data Mining and Computational Intelligence, 2 July 2016 - 4 July 2016, Funchal, Madeira, Portugal.
Chen, D Making Better Use of Big Data. In: LSBU Enterprise Count Event, March 2016, 18 March 2016 - 18 March 2016, London Southbank University.
More publications at LSBU Research Open
Dr Chen has served as book reviewer for CENGAGE Learning Business Press and referee for IEEE Transactions on Neural Networks and for Neural Computing. Since 2007 he has served as a member of the Program Committee of the International Conference on Computational Intelligence and Security. From August 2009 – August 2012, he was a Visiting Professor in the School of Software Engineering and Micro-electronics at Northwestern Polytechnial University, Xian, China.
Top of page