Dr Alex Marchant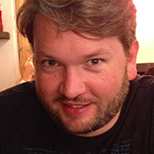 Senior Lecturer; Course Director, MSc Psychology
Applied Sciences / Psychology
Dr Alex Marchant is a Senior Lecturer in Psychology within the Division of Psychology and the School of Applied Science at London South Bank University (LSBU). His PhD was in the area of visual attention and perception (Goldsmiths, University of London) and he has continued to research visual cognition within applied settings since joining LSBU. He also investigates the cognitive and social factors involved in eating behaviours, and is a member of the Centre for Addictive Behaviours Research (CABR).
Alex predominantly teaches quantitative research methods and statistics to students at undergraduate, masters, and PhD level. He is particularly interested in the pedagogy surrounding teaching statistics and undertakes research to better inform his teaching practices. This research has highlighted the diversity present within the student cohort at LSBU, and this has in turn helped him develop a variety of learning support strategies specifically targeted at how best to support LSBU students learn about, and value the importance of, research methods and statistics. He regularly presents his research findings and examples of best teaching practice at national conferences.
Alex won the student nominated 'Outstanding Lecturer' award in 2017 (university-wide) and won the 'Outstanding Lecturer' award within the School of Applied Sciences in 2016. Alex has been Highly Commended (shortlisted in the top three nominees) in the university-wide, 'Outstanding Lecturer' award three years in a row (2016, 2017, 2018), alongside being regularly nominated for other teaching awards (innovation in teaching, outstanding supervisor, outstanding student support).
Alex led the validation and accreditation (British Psychological Society) of the MSc Psychology course and has been the Course Director for the course since its inception. The MSc Psychology course is a conversion course for graduates with degrees in subject areas other than psychology, but who wish to 'convert' to psychology.
BSc Psychology
Psychological Research Methods 1
Psychological Research Methods 2
Psychological Research Methods 3
Psychological Research Methods 4
MSc Psychology
Psychological Research Methods 1
Psychological Research Methods 2
Most recent publications
Smith-Spark, JH and Katz, HB and Wilcockson, TDW and Marchant, A Optimal approaches to the quality control checking of product labels. International Journal of Industrial Ergonomics, 68. 118-124. DOI 10.1016/j.ergon.2018.07.003
Albery, IP and Moss, AC and Davidson, N and Mba, S and Blaszko, U and Marchant, A Selective attentional bias for novel psychoactive substance (NPS) and expectancy-related stimuli amongst non-problematic NPS users and never NPS users.. Journal of Substance Use, 23. 422-428. DOI 10.1080/14659891.2018.1436606
Frings, D and Moss, AC and Albery, IP and Eskisan, G and Wilcockson, TDW and Marchant, A Environmental context influences visual attention to responsible drinking messages. Alcohol and Alcoholism, DOI https://doi.org/10.1093/alcalc/agx076
Smith-Spark, JH and Katz, HB and Marchant, A and Wilcockson, TDW Reducing quality control errors by guiding behavior. In: 6th International Ergonomics Conference Ergonomics 2016 – Focus on synergy, 15 Jun 2016 - 18 Jun 2016, Zadar, Croatia.
Katz, HB and Smith-Spark, JH and Wilcockson, TDW and Marchant, A Cognitive predictors of accuracy in quality control checking. In: EAPCogSci 2015 EuroAsianPacific Joint Conference on Cognitive Science, September 25-27, 2015, Torino, Italy.
Smith-Spark, JH and Katz, HB and Marchant, A and Wilcockson, TDW Label-checking strategies to adapt behaviour to design. In: ECCE 2015 – European Conference on Cognitive Ergonomics, July 1-3, 2015, Warsaw, Poland.
More publications at LSBU Research Open
Senior Fellow of the Higher Education Academy (Advance HE)
Associate Fellow of the British Psychological Society
Member of the Division of Academics, Researchers and Teachers in Psychology (within the British Psychological Society)
Chartered Psychologist with the British Psychological Society
Top of page