Christina Anderl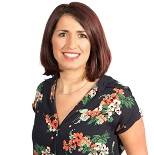 Graduate Teaching Assistant - Economics
Business / Accounting, Finance and Economics
Christina Anderl lectures in Economics within the Division of Accounting, Finance and Economics in the School of Business. She obtained her MSc in Economics from City University London, specialising in International Finance and Econometrics. Prior to joining LSBU, she worked as a Financial Analyst in the Foreign Exchange markets, where she gained experience in data analysis and derivative pricing.
In her research she specialises in International Economics with particular focus on Financial Markets and Econometrics. Her main research interests are exchange rates and the role of expectations in financial markets.
Christina teaches a wide range of subject areas within Economics, including:
Business Economics
Intermediate Macroeconomics
Multinational Firms and Global Trade
Christina also teaches independent training courses on using Stata statistics software.
Christina's research interests lie in the areas of International Financial Economics and Econometrics. Her current areas of research are exchange rate expectations and hedging, exchange rate overshooting and trade flows, and empirical investigations of exchange rate models.
Top of page