Cathy Lu Henfrey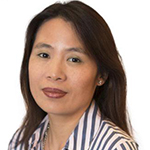 Sessional Lecturer/Graduate Teaching Assistant
Business / Management, Marketing and People
Cathy is a Sessional Lecturer and Graduate Teaching Assistant in marketing and business studies with interests in long term behavioural brand loyalty, effective brand portfolio management, market structure modelling, and marketing in emerging markets.
She is also a business data analyst for the Ehrenberg Centre for Research in Marketing, which was set up at LSBU by Professor Andrew Ehrenberg in 1993. Since then she has supported academics in London with data analysis used in their work with The Ehrenberg-Bass Institute at the University of South Australia, so they can continue working with a large number of companies to address critical issues in marketing. Her area of analytical expertise is complex panel data manipulation/management using NPD Excel, Powerview and TNS/Kantar database analysis software.
Cathy is a proponent in the principles of marketing science and teaches marketing law to final year students, masters' students and marketing executives in China and the UK.
After graduating from Doghua University with a BA in Art design on Corporate Branding and Identity (Shanghai) Cathy spent nine years in industry before becoming a data analyst for the Ehrenberg Centre for Research in Marketing. During this time, she gained national and international experience in branding and corporate identity, brand management, B2B marketing, and consumer behaviour.
Cathy is a proponent in the principles of Marketing Science and teaches marketing law to final year students and masters' students.
She teaches the following modules:
Marketing research
Advertising and promotion
Marketing management and strategy
Principles of marketing
Retail marketing
Small business planning strategy
Cathy also teaches Chinese (Mandarin) to Business students at LSBU.
Cathy's research agenda is focused on FMCG brand industry, brand portfolio management, corporate brand management, Mirichlet marketing and consumer behaviour, and brand choice behaviour.
Her recent work with the Ehrinberg Centre has included projects on Pareto shares, conditional trends and pricing elasticity.
Most recent publications
Henfrey, C and Graham, C and Bennett, DR The Effects of Brand Portfolio Management on Brand Choice Behaviour. In: Academy of Marketing Conference 2018, 02 July 2018 - 05 July 2018, Stirling, Scotland, UK.
Graham, C and Bennett, DR and Franke, K and Henfrey, C and Nagy-Hamada, M Double Jeopardy - 50 years on. Reviving a forgotten tool that still predicts brand loyalty. Australasian Marketing Journal, DOI https://doi.org/10.1016/j.ausmj.2017.10.009
More publications at LSBU Research Open
Cathy is a Fellow of the Higher Education Academy, 2014.
Cathy was a lecturer at The Millennium City Academy London, W1 and Farnborough Technical College.
Cathy acts as a business consultant for Chinese companies advising on branding and business strategies and maintains strong ties with companies in Shanghai and Beijing.
Top of page