Anne Harriss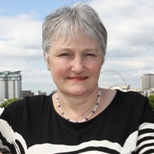 Reader in Educational Development, Course Director - Occupational Health Nursing
Health and Social Care / Primary and Social Care
Anne Harris has extensive teaching and course management experience both at London South Bank University and previously at the Royal College of Nursing. Passionate about her subject, she has driven the development of occupational health (OH) education and practice locally, nationally and internationally. Her influence is recognised by professional peers and just as importantly by students and graduates.
Anne has been awarded a Fellowship of the Royal College of Nursing (FCRN). This is the highest award the Royal College of Nursing can bestow and very few people have received it. FRCN is conferred on those who have made an exceptional contribution to nursing or health care – whether through clinical innovation, leadership, research or practice development.
In 2011, Anne's contribution to OH practice was recognised by her peers when she was named the first Occupational Health Nurse of the Year. In the same year, the portfolio of programmes she developed and leads gained the Innovations in Occupational Health Award. The following year her leadership of the OH team was recognised with a commendation within the University Vice-Chancellor "Enterprising staff" award.
These commendations reflect Anne's significant influence as educator and practitioner. Student-centered approaches and practice experiences are central to her teaching strategy. She utilises innovative teaching and learning activities.
Anne's programmes recruit from a large geographical area: students travelling weekly from Manchester, Devon and Cornwall to attend classes in London. Mindful of the time and family pressures students face, Anne develops e-tivities that students may undertake in any location and at times they find convenient. These activities were commended as part of a recent NMC quality assurance review.
Anne says, "I enjoy developing unusual activities engaging students with the learning process, empowering them to become enthusiastic, effective, independent learners. I am motivated by the challenge of developing innovative, enjoyable learning experiences."
A recent graduate commented about her: "I have been taught by many lecturers, none have been as outstanding and inspirational as Anne. She propels our careers from average to outstanding, equipping us with not only knowledge, but the skills and ability to perform in OH at a national standard impacting on (safety in) the workplace and worker health. I had one of the best years of my life at London South Bank under Anne's tutelage."
Anne leads and delivers a range of modules focusing on the varied facets of the role of the OH nurse including:
ethical and legal perspectives of OH practice;
vocational rehabilitation;
and health and safety and environmental management.
Teaching opportunities are delivered through varied platforms:
lectures;
problem-based learning exercises;
practice experiences and fieldwork activities (delivered in locations as varied as factories, botanical gardens and employment tribunals).
Anne has been awarded a Fellowship of the Royal College of Nursing (FCRN).
Anne is registered with the NMC as a Nurse and Specialist Community Public Health Nurse. She is also a Chartered Member of IOSH.
Anne is additionally a Senior Fellow of the HEA.
Anne has acted as curriculum and educational adviser on OH practice for a variety of institutions, both nationally and internationally. Internationally she contributed to a British Council funded projected in Slovakia. Within the UK she was a member of the "Task and Finish" group advising the Nursing and Midwifery Council on the public health role of OH nurses. This resulted in OH nurses being registered as Specialist Community Public Health Nursing.
More recently she has acted as an ex-officio adviser to the Council for Work and Health (CWH) taking the lead on preparing a paper for them on the challenges of preparing competent OHNs. That paper in turn influenced the development of educational standards for the Chartered Society of Physiotherapy.
In her spare time, Anne develops and leads an HIV/AIDS awareness project in Limpopo Province, South Africa. This has been delivered annually since 2003 in collaboration with the Mogalakwena Foundation. She is currently working on the development of a further social enterprise scheme in South Africa.
Top of page