Paul Crossley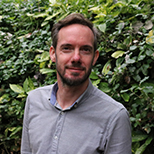 Sustainability Projects Lead
Estates and Academic Environment
Paul has worked at LSBU since June 2013, and in his capacity as Sustainability Projects Lead he is responsible for developing environmental sustainability projects across the LSBU estate and at halls of residence.
This work includes: reducing energy and water use; increasing re-use and recycling rates; identifying ways to increase walking, cycling and use of public transport; improving green space and biodiversity on campus; and most importantly linking Estates-based operational objectives with the curriculum and coursework.
Since graduating in 2001 with a first class honours degree in environmental management, Paul has worked in the social housing, commercial, construction, healthcare, charity and higher education sectors embedding environmental sustainability into organisational strategy, operations and buildings.
As a consultant Paul advised large and small clients on all aspects of sustainable construction, delivered training courses and led on ISO 14001 Certification.
He was also a Trustee of Frank Water for seven years, working with the CEO to develop strategy, representing the charity on overseas visits to community projects and speaking at events.
Top of page