Gianna Knowles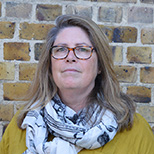 Head of Partnership (ITE)
Law and Social Sciences / Centre for Education and School Partnerships
Gianna Knowles (MA) is a Principle Lecturer and Head of Partnership (Initial Teacher Education). Her current role involves working with over 150 central London primary schools to place and support student teachers undertaking their school experiences.
Gianna is a fully qualified experience primary school teacher. She began her career in education working in North London primary schools and the Midlands. She has worked for Leicestershire's Local Authority educational advisory services and more recently has been teaching in universities, lecturing in Educational Studies and Initial Teacher Education. This role has included teaching at the University of Chichester and Högskolan i Jönköping, the University of Jönköping in Sweden.
Gianna's research interest is in the area of diversity, inclusion and social justice. She has published a number of books aimed at teachers in training and those already working in education to help them understand and explore these issues.
Gianna has taught extensively at undergraduate and master's level. She has designed and facilitated modules in Citizenship; ethics; Human Rights; children, families and community; special educational needs; diversity and professional studies (for trainee teachers).
Publications:
Knowles, G., and Lander, V., (Ed) (2012 April) Thinking Through Ethics and Values in Primary Education Learning Matters/Sage
Knowles, G., and Lander, V., (2011) Diversity, Equality and Achievement Sage
Knowles, G., (Ed.) (2010) Supporting Inclusive Practice 2nd Edition Routledge
Knowles, G., (Ed.) (2006) Supporting Inclusive Practice David Fulton Publishers
Knowles, G., (2009) Ensuring Every Child Matters Sage
Holmstrom, R., and Knowles, G., (2012 September) Understanding Family Diversity and Home School Relations Routledge
Helavaara –Robertson, L., Hill, D., (2009)Promoting Equality in Primary/Elementary Schools (Chapter 13) continuum
Gaine, C., (Ed) (2010) Diversity and Equality Practice for Social Workers Chapter 7, Class, Learning Matters
Cole, M., Hill, D., and Shan (1996) Promoting Equality in Primary Schools, Cassell, (Chapter 10)
Most recent publications
Knowles, G Understanding Family Diversity. In: Understanding Family Diversity. Routledge, Oxon, pp. 1-7. ISBN 9780415694049
Knowles, G and Lander, V and Hawkins, S and Hughes, C and Stone, G and Cooper, L and Thompson, B Thinking Through Ethics and Values in Primary Education. In: Thinking Through Ethics and Values in Primary Education. SAGE, London, ISBN 9780857257338
Knowles, G and Lander, V Diversity, equality and achievement in education. In: Diversity, equality and achievement in education. SAGE Publications Ltd, London, pp. 1-173. ISBN 9781446288689 DOI 10.4135/9781446288689
Knowles, G Ensuring every child matters: A critical approach. In: Ensuring Every Child Matters: A Critical Approach. SAGE Publications Ltd, pp. 1-166. ISBN 9781446288672 DOI 10.4135/9781446288672
More publications at LSBU Research Open
Philosophy of Education Society of Great Britain (PESGB)
Currently an external examiner at:
University of West of England for BA (Hons) Childhood Studies
Farnborough College of Technology for FdA Childhood Studies
Top of page