Dr Vadim Taraban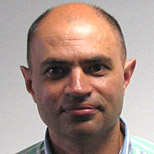 Course Director, BSc (Hons) Biosciences
Applied Sciences / Human Sciences
Vadim has an extensive experience in conducting biomedical research and teaching undergraduate students both in Russia and the United Kingdom. Having graduated as a medical doctor, he initially spent two years specializing in clinical immunology, which included intercalated six-month periods of hospital practice in haematology and rheumatology and extensive laboratory training in molecular and cellular biology and immunology. Soon after that he joined a research laboratory with a strong interest in stem cells and immunosuppression, to study the newly emerged group of cells called myeloid-derived suppressor cells (MDSC). Subsequently, his PhD project involved assessing the mechanisms which underlie a surprising ability of myeloid haematopoietic precursors both to suppress the response of T cells and to inhibit tumour growth.
Since then, Vadim has extended his interest in tumour immunology and, following his move to Southampton University in 2000, focused on the regulation of T cell functions through co-stimulatory receptors belonging to the TNFR superfamily. He studied a number of signalling pathways mediated by the death receptor 3 (DR3 or TNFRSF25), OX40 (CD134), 4-1BB (CD137) and CD27, with particular emphasis on their probing as potential targets for therapeutic interventions in cancer, inflammation and autoimmunity.
To continue developing his research and teaching interests within the broad area of Cell Biology and Immunology, Vadim joined the Department of Applied Sciences as a Senior Lecturer in Human Biology in 2013. His expertise in T-cell immunology and interest in the bone and skin inflammation are contributing to the overall strength of the research in the Department of Applied Sciences and feed both into Nutrition and Metabolism and Clinical and Applied Science core research areas.
Vadim is a Course Director of the BSc (Hons) Human Biology and BSc (Hons) Human and Medical Science pathways. He is a leader of the Biological Principles module (Level 4) and a contributor to a number of other undergraduate modules, including:
Level 4 (Year 1):
Biological Principles
Scientific Skills
Core Science for Forensic Scientists
Level 5 (Year 2):
Analytical Techniques
Disease and Immunity
Level 6 (Year 3):
Aetiology and Clinical Aspects of Nutrition
Research Project
Mechanisms of lymphocyte activation and of the regulation of T-cell functions through co-stimulatory receptors of the tumour necrosis factor receptor (TNFR) superfamily, with particular emphasis on muscular-skeletal, intestinal and skin inflammation.
Undergoing and proposed research themes include low grade inflammation in metabolic disorders and inflammatory responses in muscular damage (exercise-associated muscular straining). In particular focus is the role of mammalian polynucleotide phosphorylase (PNPase) in regulation of lymphocyte and antigen-presenting dendritic cell activation and functions.
Top of page