Dr Stephen McKeever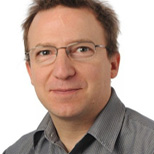 Senior Lecturer
Health and Social Care / Children's Nursing
Dr Stephen McKeever is a Senior Lecturer in Children's Nursing in the School of Health and Social Care. Stephen initially trained as adult nurse before completing a conversion course to become a children's nurse in 1997. Since this time his clinical experience has mainly focused on the care of the critically ill child. This experience has been gained in hospitals in the United Kingdom, New Zealand and Australia. Whilst in Australia, Stephen worked for the New South Wales newborn and paediatric Emergency Transport Service (NETS).
In 2012, Stephen graduated with a PhD from The University of Melbourne. His doctoral thesis examined electroencephalogram changes occurring in children during anaesthesia.
During Stephen's clinical experience he was actively involved in providing a variety of education to nurses and the multidisciplinary team. As Nurse Consultant Researcher within the Nursing Research Department at The Royal Children's Hospital, Stephen was involved in supporting and promoting the integration of research and evidence into paediatric nursing practice.
Stephen has supervised a variety of students undertaking projects including; pain/sedation practices in critical care and paediatric falls.
Stephen was awarded his doctorate from The University of Melbourne, Australia in 2012 after submitting his PhD thesis titled 'Anaesthetic-mediated changes in the electroencephalogram in the paediatric population'. This doctoral study examined a variety of electroencephalogram parameters and their relationship to infant's age and anaesthetic concentration.
Stephen has an established track record of undertaking and publishing research. Topics of investigation have included neuromonitoring, brain injury, pain/sedation, and engaging nurses in evidence based practice. Skills learnt whilst undertaking these projects has given Stephen a broad understanding and exposure to research processes that allow him to view research problems from a wide perspective.
Stephen is a member of the Australian College of Critical Care Nurses, the European Society of Paediatric Neonatal Intensive Care and the UK Paediatric Intensive Care Society.
Top of page