Dr Paul Holborn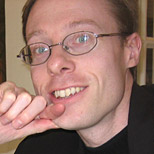 Research Fellow
Engineering / Chemical and Petroleum Engineering
Paul is a Senior Research Fellow in Explosions and Fire Research (EFR) with interests in modelling of fire and explosions, hydrogen gas safety, sprinkler/mist suppression systems and the statistical analysis of fire data.
This expertise has been successfully applied to a large number of externally funded research contracts awarded to EFR over the last 19 years, including work for Brandforsk (the Swedish fire research board), Building Research Establishment (FRS), DETR, London Fire Brigade and Sellafield Ltd.
Before joining LSBU, as a post-doctoral Research Fellow in 1995, he worked as a Research Assistant at UCL on a 3 year SERC/HSE funded project to predict flashover in building fires, where he was also registered for a part-time PhD entitled "The Nonlinear Dynamics of Flashover in Compartment Fires", which was awarded in 1994.
Research to model and predict the mitigation of hydrogen explosions by water mist, nitrogen dilution and chemical additives for Sellafield Ltd. Modelling of hydrogen gas explosions using the FLACS CFD gas explosion code. Analysing data collected by London Fire Brigade Fire Investigators to identify fire death risk factors and obtain characteristic data suitable for QRA models. Development and integration of a Lagrangian Particle Tracking sprinkler model, into the BRE JASMINE Computational Fluid Dynamics code. Modelling of sprinkler-hot smoke interactions and other fire scenarios using both the JASMINE CFD code and the in-house sprinkler code SPLASH.
Most recent publications
O'Hara, R and Ingram, JM and Holborn, PG and Ball, J and Edge, R and Rathbone, P Charactererising the performance of hydrogen sensitive coatings for nuclear safety applications. In: International Conference on Hydrogen Safety (ICHS 2017), 11 September 2017 - 13 September 2017, Hamburg, Germany.
Ghatauray, T and Ingram, J and Holborn, PG A comparison study into low leak rate buoyant gas dispersion in a small fuel cell enclosure using plain and louvre vent passive ventilation schemes.. In: HYSAFE: International Conference On Hydrogen Safety, 11 September 2017 - 13 September 2017, Hamburg, Germany.
Averill, AF and Ingram, JM and Holborn, PG and Battersby, P Energy losses during drop weight mechanical impacts with special reference to ignition of flammable atmospheres in nuclear decommissioning: theory and determination of experimental coefficients for impact analysis and prediction. International Journal of Impact Engineering, DOI 10.1016/j.ijimpeng.2017.05.019
Beasley, M and Holborn, PG and Ingram, JM and Maidment, GG Domestic Refrigerator Design -Safety Issues and Opportunities. In: The Institute of Refrigeration Event 2nd March 2017, 02 March 2017 - 02 March 2017, London South Bank University.
Fernandez-Cerezo, G and Benson, CM and Holborn, PG and Mba, D Challenges for the development of EFFICIENT - An Environmentally Friendly Fire Suppression System for Cargo using Innovative Green Technology. In: Institute of Fire Engineers RE16, November, 2016, Birmingham.
Benson, CM and Fernando-Cerezo, G and Holborn, PG and Mba, D Fire suppression systems in aircraft: Their past, present & future. Fire Investigation, 1. 34-41.
Ghatauray, TS and Ingram, JM and Holborn, PG An experimental and CFD study into the dispersion of buoyant gas using passive venting in a small fuel cell enclosure. In: IChemE Hazards 26, 24 May 2016 - 26 May 2016, Edinburgh.
More publications at LSBU Research Open
Supporting the Sellafield Ltd Flammable Gas Centre of Expertise
Member of Hydrogen London
Top of page