Dr Clara Eroukhmanoff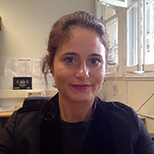 Lecurer in International Relations
Law and Social Sciences / Social Sciences
Dr Clara Eroukhmanoff joined London South Bank University in 2017 as a lecturer in International Relations. She is the course director of the International Relations programme at LSBU. Prior to joining LSBU, she was a teaching fellow at Royal Holloway (London) in the department of Politics and International Relations. She has been awarded a PhD by the University of St Andrews on the securitisation of Islam in the United States. She is currently working on a monograph with Manchester University Press on this topic.
Her research interests focus on the securitisation of Islam, (counter)-radicalisation, emotional responses to terrorism, Islamaphobia and the affective process of securitisations. Her research is broadly situated in Critical Security Studies and the role of language and emotions in securitisation processes.
Clara is co-convener of a research group on the role of emotions in IR, along with Naomi Head (Glasgow) and Amanda Beattie (Aston). She is also a research fellow at the Centre for International Public Policy (CIPP) at Royal Holloway and a research associate at the University of Cambridge (POLIS).
At LSBU, Clara is the lecturer and coordinator of two modules, Introduction to International Relations (DSS_4_IIR1) and Introduction to International Relations Theory (DSS_4_IIRT1).
She has taught a number of courses in International Relations at the University of St Andrews (Intro to IR), Edinburgh (US Foreign Policy) and Royal Holloway (Non-state violence, Defence and US Foreign Policy).
Clara thoroughly enjoys teaching and building a strong relationship with her students. Her philosophy of teaching relies on developing a critical approach to IR by turning the subject 'on its head' from the second half of the term.
She was awarded 'best teacher in improving the life of students' at Royal Holloway in 2017.
Clara's current research examines the ways in which Islam and the Muslim population are securitised in the United States from the G.W Bush to the Trump administration. She is more particularly interested in what she refers as an 'indirect securitisation,' a securitisation that occurs through indirect securitising speech acts and the affective process of indirect securitisations.
Clara is also interested in how gender is intertwined with international security and foreign policy, for example, in the ways in which Trump's "locker room banter" comment during his campaign and feminising military weapons reproduce a gendered view of the international system as well as legitimises war. More generally, Clara's research is constructivist and looks at agency and emancipation from dominant structures.
Lastly, she is also exploring the role of affective responses to terrorist attacks in Europe manifested through memes such as 'Je suis Charlie,' 'One love' and 'I heart MCR' as a citizen-lead counterterrorism strategy.
Clara Eroukhmanoff is co-convenor of a research group on 'emotions in International Relations' along with Naomi Head (Glasgow) and Amanda Beattie (Aston).
Clara is a fellow at the Centre for International Public Policy at Royal Holloway University and a research associate with the University of Cambridge (POLIS) where she worked on a project entitled 'Media, Faith and Security' with Roxanne Farmanfarmaian and funded by an ESRC Impact Acceleration Grant. With Roxanne and other research associates, she organised a day workshop at the House of Lords with members of the media, members of parliament and various faith communities, in order to reach an understanding and respect of religious practice and freedom of press in a post-Charlie attacks environment.
Top of page