Dr Aaron Gillich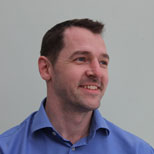 Senior Lecturer in Energy and Building Services Engineering
Built Environment and Architecture / Civil and Building Services Engineering
Aaron graduated from Carleton University in Ottawa, Canada as a Bachelor of Aerospace Engineering in 2004. He then moved to Halifax, Canada where he did a research masters in Astronomy and Physics at Saint Mary's University. In 2008 he moved to the UK and began working in London as a consulting engineer in building physics.
He did energy modelling and sustainability strategy work until 2011, when he went back to school to pursue his PhD in the Department of Architecture at the University of Cambridge. He joined LSBU as a Research Fellow in 2014, in the Centre for Efficient and Renewable Energy in Buildings (CEREB).
Aaron currently works as a Senior Lecturer in the School of the Built Environment and Architecture. His professional interests cover a wide range of energy and sustainability issues, primarily focusing on the energy trilemma of delivering a low cost, low carbon, secure energy system.
Aaron currently teaches a range of topics in the School for the Built Environment and Architecture including:
Foundation Mathematics
Design Applications
Energy Resource and Use Analysis
Refrigeration, Air Conditioning, and Heat Pump Engineering
Environmental Management
Aaron's current activities involve running the LSBU research program for the Balanced Energy Network (BEN) project at LSBU. BEN is an Innovate UK funded project going from 2016-2018. It is an advanced energy network that delivers heating, cooling, and electricity in a way that balances cost and carbon emissions. It consists of linking two LSBU campus buildings with a ground temperature water pipework. It also uses two boreholes drilled 100m down to the chalk aquifer to regulate the temperature of the network. The network works with a demand-side response aggregator.
The research priorities cover many areas of building services and energy systems engineering, including:
Heat network design
Aquifer thermal energy storage
Demand side response and energy storage
Retrofit of existing buildings
The electrification of heat
Energy systems and infrastructure modelling
Procurement and project management in energy infrastructure
Top of page