Danusia Wysocki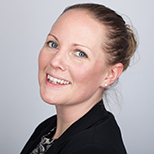 Senior Lecturer
Business / Accounting, Finance and Economics
Danusia is a qualified accountant and senior lecturer within the division of Business and Enterprise, School of Business and Course Director for BA (Hons.) Business Management years 1 and 2, with a keen interest in Coaching and student development of inherent skills and resilience, necessary to succeed in the working world of the 21st century.
Danusia is a committed and dedicated professional with a proven ability to teach, motivate and direct students to maximise their potential by encouraging a positive and energetic learning environment.
Danusia is currently an examiner for ICSA, The Governance Institute, having written the QSCS Financial Reporting and Analysis course study text.
Danusia is a passionate tutor, encouraging students to learn through wider research as well as the traditional means of classroom teaching, as well as Virtual Learning Environments and online tools to compliment student learning. She is careful not to restrict the transfer of knowledge to accounting theory only, but draws on practical experience gained throughout a diverse career to embed employability skills. She is proud to provide undergraduates with a base for understanding career opportunities in Accounting, linking their degree to future studies.
Danusia attained a distinction in her Master's in Accounting with Finance, researching sophistication-related differences in Discretionary Accruals Estimation, and testing the efficiency of Discretionary Accruals Estimation Models. She is currently undertaking preliminary research for a PhD with a view to researching the context, content and assurance of corporate sustainability reports.
Danusia is a Fellow of the Association of Chartered Certified Accountants and a Fellow of the Higher Education Academy.
Top of page