Section Menu
LSBU hosts first Media Communications and Cultural Studies Association conference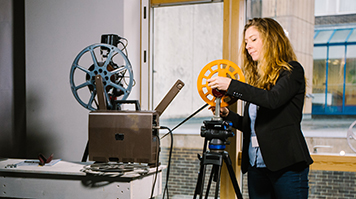 LSBU hosts a wide ranging conference focusing on creativity and agency and exploring real-world issues linked to media, culture and communications
This year's annual Media Communications and Cultural Studies Association (MeCCSa) Conference 2018 was hosted by the London South Bank University's School of Arts and Creative Industries from 10-12 January.
The theme of the three-day conference, Creativity and Agency, aimed to look at a variety of cross-cutting contemporary themes on how people interpret today's creative landscape.
The conference is the annual presentation of the best work across the whole range of MeCCSa interests, and presented an opportunity to hear about and discuss important topics in both media and higher education policy relevant to MeCCSa members.
There were a variety of parallel sessions throughout the event, on topics as diverse as BBC radio in Northern Ireland: historical and policy perspectives on the continued popularity of the local, children and media, diversity and inclusion, creative entrepreneurs, media and protest, art and gentrification, branding and PR and storytelling.
Professor Janet Jones, Dean of Arts and Creative Industries said: "LSBU is delighted to be hosting the annual 2018 MeCCSa conference. We have 250 International scholars assembled this week to discuss how we can best respond to real-world issues linked to culture and communications. Issues with global impact such as the alienation of the electorate, fake news, how and why politics is reduced to neo-liberal social media soundbites, and the significance of the US electorate's choice between two reality TV stars at the next election.
"It's a time when critical thinking around media and society and a reflection of how culture and communications influence our society and our world views have never been so important."
Top speakers included Professor Anita Biressi, Professor of Media and Society at the University of Roehampton, Professor Andy Miah, Chair in Science Communication and Future Media and leader of the #SciComm Space at the University of Salford. Another keynote speaker was David Gauntlett, who was Professor and Director of Research at Westminster School of Media, Arts and Design, University of Westminster until the end of 2017.
Offering a personal perspective on the ways in which media and communications studies has and hasn't changed over the past 20 years, Professor David Gauntlett talked about how creativity and agency have moved in and out of popularity. He addressed how we need to find new ways to use technologies to truly unlock creativity for everyone, and that we still need more creativity, not less. He also discussed how timeless truths about creativity link to today's media and communications technologies and identify some platforms that might give us hope.
Top of page