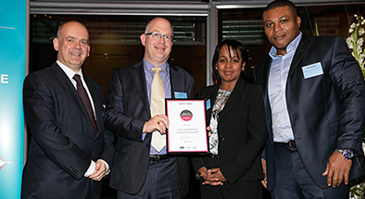 London South Bank University has been recognised for its dedicated commitment to workplace health and wellbeing by the Healthy Workplace Charter
London South Bank University (LSBU) has been awarded the 'Commitment' Level Award of the London Healthy Workplace Charter.
The award recognises LSBU's commitment to workplace health and wellbeing. Staff from LSBU collected the award at an awards ceremony hosted by Roger Evans, Deputy Mayor of London.
LSBU joins over sixty employers who have achieved the award since it was established.
Having successfully reached the 'commitment' level award, LSBU will now be implementing a strategy to secure the 'achievement' award, and ultimately, the 'excellent' award.
The London Healthy Workplace Charter is a framework that recognises and rewards employers for investing in workplace health and wellbeing. It provides a series of standards for workplaces to meet in order to guide them to creating a health-enhancing workplace.
Commenting on LSBU securing the award, Deputy Mayor of London Roger Evans said:
'Congratulations to London Southbank University for being accredited to the Healthy Workplace Charter. With work being such a huge part of our lives, who could argue about the importance of health and wellbeing whilst we are doing it? But having a healthy workforce is also of benefit to employers. Fitter and healthier staff are less likely to take time off and staff turnover is also likely to be reduced, so it has a positive impact on the bottom line. Whether in the private or public sector, our hope is that many more employers will be inspired to sign up to the charter.'
For further information, please contact the LSBU press office on 020 7815 6707 or press@lsbu.ac.uk.
Top of page