Section Menu
LSBU researcher interviewed about backpacking tourists 'eating the world' on BBC radio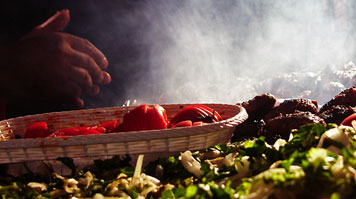 Emily Falconer, researcher at LSBU's Weeks Centre for Social and Policy Research, was this week interviewed about the food-driven impulses of backpacking tourists.
Emily was invited to the studio for 'Thinking Allowed' on BBC Radio 4, a programme that explores the latest research into how society works and discusses current ideas on how we live today.
At the Weeks Centre for Social and Policy Research, Emily's research focuses on gender, sexuality, families and intimacy, with a specific interest in lesbian, gay, bisexual, trans* and queer (LGBTQ) family lives. Her previous research has incorporated theories of feminism, affect and emotion from across the disciplines of sociology and human geography—exploring how changing political identities are tied in with emotional and embodied histories and encounters.
Talking about her PhD paper Transformations of the backpacking food tourist: Emotions and conflicts—written for her previous PhD studies at Manchester Metropolitan University—Emily revealed some food trends she discovered amongst female backpackers in their late twenties and older.
Speaking to host Laurie Taylor, Emily says: "The motivation for this type of travelling is achieving authentic culture, getting very close to the culture—meaning you would sometimes have to experience pain and discomfort as well as pleasure.
"The backpackers shared the idea of wanting to get very close to the food for a heightened and stimulating experience of the local culture. This included eating in markets, in what the participants would call 'real places', at street markets, also eating in particular places, such as eating with your fingers on the train.
"The participants were very excited about eating all these different things—and also about pushing their bodies out of their comfort zone. The study showed that food was used as a tool for expressing whatever emotions the women felt and how that changed over time."
Listen to the full programme 'Thinking Allowed' on BBC Radio 4.
Read more about Emily Falconer's research or find out more about the Weeks Centre for Social and Policy Research at LSBU.
Top of page