Section Menu
Opinion: How will the Government's plan of axing nursing bursaries affect potential students?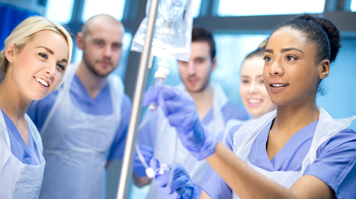 "Potential students may be put off these professions by needing to take out student loans" warns LSBU's Professor Warren Turner, Dean of the School of Health & Social Care
As part of the Autumn Spending Review the UK Government plans to reform the current funding system for health students by replacing NHS grants with maintenance and tuition student loans.
This will include abolishing the cap on the number of student places for nursing, midwifery, occupational therapy, radiography and operating department practice and will apply to students starting university from 2017/18 academic year.
Following Chancellor George Osborne's announcement, Professor Warren Turner, Dean of the School of Health and Social Care at London South Bank University (LSBU), shared his views.
Professor Warren Turner comments: "This announcement potentially improves the financial support available to student nurses, midwives and allied health professionals because they will be able to access more funding during their education than they can do currently under the bursary system.
"There is potential for student numbers to increase under the new scheme, but this will depend on provision of high quality NHS and other placements.
"However, the key risk is that potential students - especially mature and part time - may be put off these professions by needing to take out student loans. Additionally, postgraduate routes to health professional education may be less attractive to those already carrying a debt from their first degrees, so we need to ensure these people are not lost to the professions.
"Nurses leaving university and entering the work place at the end of their course may well expect higher salaries to enable them to repay their student loan debt. Therefore scrapping bursaries could just delay the public picking up the cost eventually anyway."
Professor Turner has published a number of journal articles, books and book chapters with his research interests including the development of clinical skills in simulated environments, dermatology, e-learning and complementary medicine.
Guidance for prospective students
The funding changes will apply from September 2017. Students applying to start a course starting in 2016 academic year will continue to receive NHS bursaries for their studies.
The Council of Deans of Health have prepared a useful FAQ guide: for prospective students in light of the 2015 spending review.
Top of page