Section Menu
College students in mock trial for legal awareness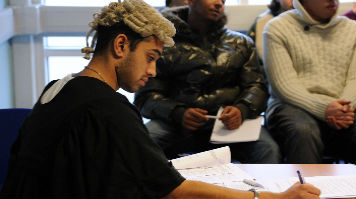 Newham College students donned courtroom kit this week as part of a new London South Bank University initiative 'Street Law', designed to engage school and college learners with their legal rights and responsibilities.
The Street Law project sees law students from London South Bank University help school and college students with understanding everyday legal matters—and the potential ramifications of breaking the law—by taking part in a mock trial.
The scheme is run by LSBU's law department together with its student law society, which has been given a small sum of money by the university for the project.
"By taking law into the classroom, LSBU law students get the opportunity to engage school and college students with the law and how it affects them," explains Louise Andronicou, principal lecturer in LSBU's law department.
"LSBU students participating in the project also get this opportunity to give something back to their community, at the same time improving their legal skills and employability."
Newham College is the first education partner to take part in the scheme, which is the source of the highest number of enrolments on LSBU's law courses.
"I loved it," said Atta Saleem, an Access to Law student at the college who played the prosecution barrister.
"Playing the role of the defence barrister in the mock trial was an amazing, realistic experience and very emotional too, because I was fighting for the freedom of an individual who deserved justice," Atta added.
"It was an excellent, fantastic experience and I would recommend it. It's the closest thing to a courtroom experience without the conviction!" commented Ajeet Singh, an A-level student at the college who played the role of prosecution barrister.
"The LSBU lecturers knew what they were doing and helped us apply the law to our everyday lives. I had an amazing time," said Karran Singh, an A-level student who played the role of the judge.
"I actually felt it made a difference", added Akim Tejan Cole, President of the Student Law Society at LSBU.
Along with the Street Law project, LSBU's law department teaches course modules in school and college classrooms—giving students the opportunity to achieve university credits while still at school or college.
LSBU's law department also provides a free legal advice service to the general public, staffed by law students working under the supervision of practising solicitors.
To find out more about studying law at LSBU, use our course finder.
Top of page