We want to put learning, creativity and design at the heart of our campus and support the best teaching and learning experience possible
We're constantly looking to develop and extend the benefits of our location and the features of its varied landscape. This leads us to create innovative new buildings, redevelop Grade II listed properties and carry out a programme of changes and improvements that constantly enhance our campus for students.
As a university, we're committed to innovation that serves our community and our students. We're a modern university that knows how to develop opportunities and infrastructures to boost education, research and enterprise.
St George's Quarter development
The University is proposing to redevelop St George's Quarter, which will transform the north-western corner of our Southwark campus. The area is currently home to the Blackwells Building (109-112 London Road), the Rotary Building, a Grade II listed former Presbyterian Chapel on Borough Road and Hugh Astor Court, a vacant residential block acquired by the University in 2016. The chapel is currently on the Historic England Heritage At Risk Register due to extensive fire damage.
The site will become the new civic heart for the Southwark Campus, with a central concourse providing an all-weather setting for 24/7 social interaction, study and events such as Welcome Week fairs, graduation ceremonies, food markets and performing arts.
A new Learning Centre will include a range of study spaces, a central point for student enquiries, and an Automatic Book Storage and Retrieval System (ASRS). The ASRS will house the collection of books currently located in the Perry Library and will be the first of its kind in a British university. The three storey storage system will sit behind a glazed frontage allowing views into the ASRS from the central concourse and providing a dynamic hi-tech backdrop to the new entrance.
The building facing London Road will accommodate an exhibition space and retail/café on the ground floor with a new student support centre and teaching spaces on the floors above.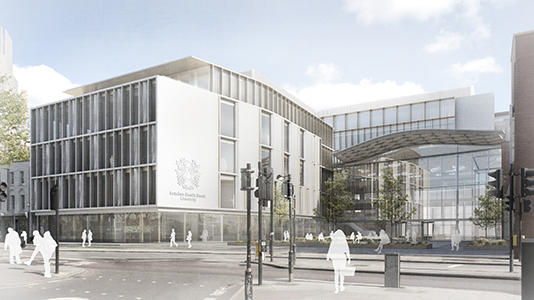 Incorporated into the retained frontage and flank wall of the former Presbyterian Chapel will be a Performing Arts Centre, including a 200-seat theatre for teaching and public performances. The centre will also include a smaller 60-seat studio theatre and rehearsal space.
The development includes proposals to create a more pedestrian friendly environment along the length of Keyworth Street through planting, tactile paving, and creating places to sit and park bicycles.
Timeline
A multi-disciplinary team, led by architects WilkinsonEyre, is working closely with us to develop detailed design proposals. A planning application was submitted to Southwark Council in October 2017. The St George's Quarter development will complete in time for opening in September 2020.
View the public exhibition boards.
Top of page